The 2020 Worker Co-op Conference is headlined by two incredible keynotes, but the work of co-creating the work of the future will happen in sessions that span our two-day virtual gathering.
From accessing health care and building skills within worker cooperatives to attracting capital investment and exploring cities' plans to rebuild using worker ownership, our sessions are designed to push boundaries and create the just economy we envision.
Sept 10, Day 1 Keynote: Naomi Klein and Avi Lewis | 1:00pm ET / 12:00pm CT / 10:00am PT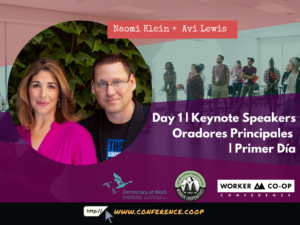 Day 1 at the Worker Co-op Conference features a keynote conversation on recovering from crisis with award-winning journalists Naomi Klein and Avi Lewis. Moderated by USFWC Executive Director Esteban Kelly, our first featured conversation highlights visions of just and equitable workplaces at a moment when worker ownership has become a mainstream feature of plans to rebuild our economy amidst unprecedented and escalating challenges.
About our keynote speakers
Naomi Klein is an award-winning journalist, columnist, documentary filmmaker and author ofthe New York Times and international bestsellers No Logo, The Shock Doctrine, This Changes Everything, No Is Not Enough and On Fire. Her writing has appeared in newspapers and magazines around the world and she is Senior Correspondent for The Intercept. Klein is the inaugural Gloria Steinem Endowed Chair in Media, Culture, and Feminist Studies at Rutgers University and cofounder of the climate justice organization The Leap (TheLeap.org)
Avi Lewis is an award-winning documentary filmmaker, journalist, and lecturer in Journalism and Media Studies at Rutgers University. His 25-year journalism career has spanned local news reporting to hosting and producing a variety of current affairs shows for television networks worldwide, to directing theatrically released documentaries, This Changes Everything and The Take, that premiered in festivals like TIFF and the Venice Biennale.  In 2017, he co-founded and is now Strategic Director of The Leap – an organization launched to upend our collective response to the crises of climate, inequality and racism.
Sept 10, Day 1 Breakouts | 3:00pm ET / 2:00pm CT / 12:00pm PT | 90 min
Sept 10, Day 1 Breakouts | 5:00pm ET / 4:00pm CT / 2:00pm PT | 60 min
Sept 11, Day 2 Keynote - Maurice Mitchell | 1:00pm ET / 12:00pm CT / 10:00am PT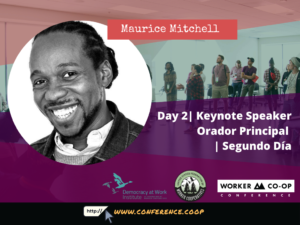 Existing inequalities are exacerbated during crises. This fact has been well-documented over the past few months as the pandemic has disproportionately affected Black and Brown communities. Relief efforts have been equally damaging, failing to help many business owners of color retain jobs and keep the doors open.
As protests continue across the country calling for the dismantling of anti-Black systems of oppression, the time for action in the name of justice is now. Growing worker ownership is part of the equation that delivers racial and economic justice to the communities we must rebuild together.
About Maurice Mitchell
Maurice Mitchell is a nationally-recognized social movement strategist, a visionary leader in the Movement for Black Lives, and a community organizer for racial, social, and economic justice. Born and raised in New York to Caribbean working-class parents, Maurice began organizing as a teenager—and never stopped.
Two tragedies changed the course of Maurice's life. In 2012, Hurricane Sandy destroyed Maurice's house in Long Beach, NY and left him living in hotels for months. Eighteen months later, after Mike Brown was killed by police in Missouri, Maurice relocated to Ferguson to support organizations on the ground.
In 2018, Maurice took the helm of the Working Families Party as National Director where he is applying his passion and experience to make WFP the political home for a multi-racial working-class movement.
Sept 11, Day 2 Breakouts | 3:00pm ET / 2:00pm CT / 12:00pm PT | 90 min