Click here for directions to each of the conference locations
There are two different main locations for the different days of the conference.
On September 9th, all activities will take place at Arch Street Meeting House in Old City. 
Arch Street Meeting House
320 Arch Street
Philadelphia, PA 19106
On September 10th, tracks will be indoors with roughly 45 people maximum in each room. They will take place at Temple University's Center City classrooms, right across from Philadelphia City Hall.
Temple University Center City (TUCC)
1515 Market Street, Suite 215
Philadelphia, PA 19102
Click here to view the locations on Google Maps
Both main venues are located in the midst of dense business and tourist districts with a huge number of restaurants, cafes, bars, and other accommodations.
Two important notes about the Temple Center City location: 
Children under 18 will not be permitted to enter the building. For anyone who needs to bring children to the conference, there will be childcare available at another location. For more information about this please

see the childcare section.

 

This venue will require all attendees to sign in through security with a valid photo ID, which includes a current employee ID, municipal ID, passport, driver's license, or any current form of ID with your photo and name. We want to make sure this isn't a barrier for anyone to attend the conference, so please email conference@usworker.coop if you don't have a valid photo ID.
On September 10th, our co-op awards ceremony and party from 7-11pm will be at Sunflower Philly. Sunflower Philly is not fully wheelchair accessible. Please contact the venue directly to ask about mobility access at info@sunflowerphilly.org.
Sunflower Philly
1725 N 5th Street
Philadelphia, PA 19122
Local Transit
The venues are all located within a short walk from SEPTA train stations for the Market-Frankford line (MFL). Trains run about every 10 minutes and buses along Market Street are very frequent as well. Individual trips cost $2.50 and 3-day passes are $18.00. For more information about trains and buses visit the SEPTA website.
Airport to Hotel
There is a SEPTA train station at PHL that's marked as you walk towards baggage claim. You will have to pay cash on the train or buy a SEPTA card at the kiosk. The trip from the airport to Suburban Station on the train is $8 if paying cash and $6.50 if using a SEPTA card.
Get off the train at Suburban Station. You will need to transfer above-ground across the street to 15th Street Station—directly in front of City Hall—and get on the Market Frankford Line (blue) going East. The stop closest to the hotel is called 2nd street. 
You can also get a car service from the airport.
Getting to Arch Street Meeting House
The Holiday Inn Express is a 10 minute walk to Arch Street Meeting House. Walk North to Race St., go under the overpass, turn left to go South on 3rd, and take a right onto Arch Street. The front of the building looks like this: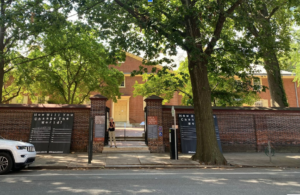 There is only space for conference staff and vendors to park at the Meeting House lot.
If you are taking the train, the Market Frankford Line stop closest to Arch Street Meeting House is 5th St Independence Hall Station.
Arch Street Meeting house is the childcare location for both days of the event.
Getting to Temple Center City
This is not Temple's main campus. DO NOT GO TO TEMPLE. Route to 1515 Market Street.
The Holiday Inn Express is a 35 minute walk to Temple's Center City building. Walk South on N Christopher Columbus Blvd to Market St., turn right and walk West through City Hall cross 15th Street. TD Bank should be to your right and the entrance to Temple will be on your left. The front of the building looks like this: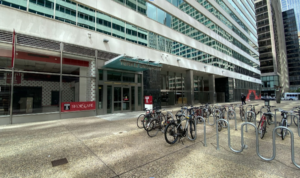 Nearby parking options include: 
SPPlus Parking at 1501 John F Kennedy Blvd (Love Park Garage)

Parkway Parking at 1500 Market Street (Centre Square building) (entrance on 16th Street near Ranstead Street)

The following buses make stops within one block of the TUCC location at 1515 Market Street: 4 Bus, 16 Bus, 17 Bus, 33 Bus, 38 Bus, and 48 Bus.
If you are taking the train, the Market Frankford Line (blue) will get off at the 15th St Station and the Broad Street Line (orange) you'd get off at the City Hall Station; both of which intersect.
Getting to Sunflower Philly
The best route between Temple Center City and Sunflower Philly is the Market Frankford Line or Bus 23.
There will be a shuttle running continuously between the hotel location, Holiday Inn Express, Penn's Landing, and Sunflower Philly between 6:30pm and 11:30pm on Saturday, Sept 10.
Market Frankford Line: 
Get on the train at

15th Street Station

in front of City Hall

Get off at

Berks

station

Walk about 15 minutes – go West to 5th Street, then turn left to go South about one block
The Market Frankford Line also has the 2nd street stop within a short walk of the conference hotel. 
Bus 23: 
Get on at Market St and 11th Street going North

Get off at Cecil B. Moore 

Walk about 11 minutes – go East on Cecil B. Moore to 5th Street, then turn right to go North ~one block
The entrance is to the left of the building: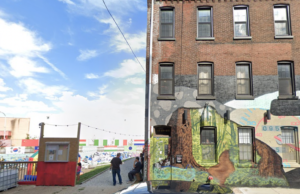 The Holiday Inn Express is a 40 minute walk to Sunflower Philly. Head north on N Christopher  Columbus Blvd toward Race St. Turn left onto Race St. Turn right onto N 2nd St. Turn left onto W Girard Ave. Turn right onto Germantown Ave. Make a left onto Cecil B. Moore Ave, then turn right onto 5th Street. The entrance will be on your right. 
Street parking is available near Sunflower Philly. The nearest parking lots are 15+ minute walks away, so we recommend ride shares or using public transit if available to you.