The Worker Co-op Conference is the only national convening dedicated to worker ownership and workplace democracy. We will come together as worker owners, cooperative developers, policymakers, funders, and other allies, to make space for connection, education, skill-building, and sharing to improve the lives of workers and their families.
The Worker Co-op Conference is produced by Democracy at Work Institute and the U.S. Federation of Worker Cooperatives.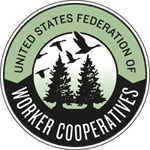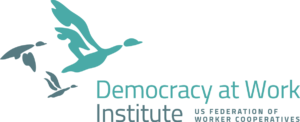 U.S. Federation of Worker Cooperatives (USFWC)
The United States Federation of Worker Cooperatives (USFWC) is the national grassroots membership organization for worker cooperatives.
As a membership and advocacy organization, we connect worker cooperative members to benefits, to each other and to the larger cooperative and economic justice movements. We amplify our members' voices to advocate for worker cooperatives at the local, state and national level. We provide consulting and technical assistance to cooperatives old and new. And through the education, training and organizing work of our partner organization, the Democracy at Work Institute, we are committed to ensuring cooperative business ownership reaches those who need it the most.
Democracy At Work Institute (DAWI)
The Democracy at Work Institute expands the promise of cooperative business ownership to reach those communities most directly affected by social and economic inequality. It was created by the USFWC to ensure that worker cooperative development in economically and socially marginalized communities is adequately supported, effective, and strategically directed. It is the only national organization dedicated to building the field of worker cooperative development, through strategic research, creation of tools and standards, leadership development, direct technical assistance and advocacy for worker cooperatives as a community economic development strategy. The Institute brings both a birds-eye view of the national stage and an experiential on-the-ground understanding of cooperative business, making sure that our growing worker cooperative movement is both rooted in worker cooperatives themselves and reaches new communities of worker-owners.