For more than two decades, the Eastern Conference for Workplace Democracy (ECWD) and the Western Worker Cooperative Convenings (WWCC) have been the home for regional gatherings within the worker co-op movement.  While we deeply miss in-person convenings, we know that this year continues to be a challenge physically, spiritually, socially, and financially for many people within our community. We are planning to reconvene in person for the Worker Co-op Conference in 2022, and future regional conferences in 2023.
With that in mind, this year we will be hosting Worker Co-op Week - a multi-day virtual convening, bringing the best of the ECWD and WWCC together in an online format. These events will be curated by a host committee made up of worker-owners and other USFWC members, including sessions hosted by leaders within the worker co-op movement. 
Most events will be hosted by Session Organizers, with the U.S. Federation of Worker Cooperatives hosting the keynote sessions. There will be one keynote session presented by the WWCC  and one presented by the ECWD, to dig into key issues that are brought forth through the ECWD and WWCC representatives on the host committee. 
Although Worker Co-op Week will be accessible to the general public, the sessions are primarily for worker-owners-  a space to build skills, organize, and connect with peers. We are excited that all sessions will be virtual, and therefore accessible to the entire worker co-op community in the U.S. and around the world. 
Want to sponsor the conference? Fill out this sponsorship form
Meet the members of the Worker Co-op Week host committee
Session Organizers: Download your guide here
Click the image to open and download the guide!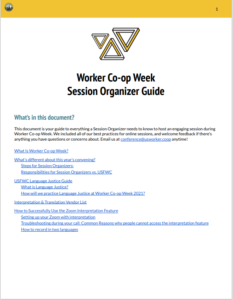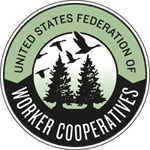 U.S. Federation of Worker Cooperatives (USFWC)
The United States Federation of Worker Cooperatives (USFWC) is the national grassroots membership organization for worker cooperatives.
As a membership and advocacy organization, we connect worker cooperative members to benefits, to each other and to the larger cooperative and economic justice movements. We amplify our members' voices to advocate for worker cooperatives at the local, state and national level. We provide consulting and technical assistance to cooperatives old and new. And through the education, training and organizing work of our partner organization, the Democracy at Work Institute, we are committed to ensuring cooperative business ownership reaches those who need it the most.