The 2020 Worker Co-op Conference is headlined by two incredible keynotes, but the work of co-creating the work of the future will happen in sessions that span our two-day virtual gathering.
From accessing health care and building skills within worker cooperatives to attracting capital investment and exploring cities' plans to rebuild using worker ownership, our sessions are designed to push boundaries and create the just economy we envision.
Sept 10, Day 1 Keynote: Naomi Klein and Avi Lewis | 1:00pm ET / 12:00pm CT / 10:00am PT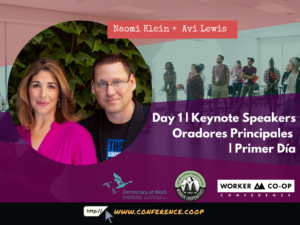 Day 1 at the Worker Co-op Conference features a keynote conversation on recovering from crisis with award-winning journalists Naomi Klein and Avi Lewis. Moderated by USFWC Executive Director Esteban Kelly, our first featured conversation highlights visions of just and equitable workplaces at a moment when worker ownership has become a mainstream feature of plans to rebuild our economy amidst unprecedented and escalating challenges.
About our keynote speakers
Naomi Klein is an award-winning journalist, columnist, documentary filmmaker and author ofthe New York Times and international bestsellers No Logo, The Shock Doctrine, This Changes Everything, No Is Not Enough and On Fire. Her writing has appeared in newspapers and magazines around the world and she is Senior Correspondent for The Intercept. Klein is the inaugural Gloria Steinem Endowed Chair in Media, Culture, and Feminist Studies at Rutgers University and cofounder of the climate justice organization The Leap (TheLeap.org)
Avi Lewis is an award-winning documentary filmmaker, journalist, and lecturer in Journalism and Media Studies at Rutgers University. His 25-year journalism career has spanned local news reporting to hosting and producing a variety of current affairs shows for television networks worldwide, to directing theatrically released documentaries, This Changes Everything and The Take, that premiered in festivals like TIFF and the Venice Biennale.  In 2017, he co-founded and is now Strategic Director of The Leap – an organization launched to upend our collective response to the crises of climate, inequality and racism.
Sept 10, Day 1 Breakouts | 3:00pm ET / 2:00pm CT / 12:00pm PT | 90 min
Languages: English
A Green New Deal can only succeed if it is both dramatic in scale and led from below. It must also center workers and communities of color. How? Right now, the usual discourse artificially siloes these two constituencies; trade unions are understood as the representatives of labor, and racial justice groups are understood as the representatives of disadvantaged communities. As a result, the usual discourse leaves out the power and potential of the worker cooperative movement. By dramatically scaling up the green worker co-op movement, through a mix of thoughtful policy and grassroots organizing, we could expand and deepen our concepts of climate work, while finding ways to invest in communities of color that build wealth without extraction or displacement. This panel will explore the ways that worker co-ops are already combining labor and community forces in creative, consequential ways. And it will debate what needs to be done to scale up this sector in order to build a truly just Green New Deal.
Languages: English / Español
This panel will explore emerging strategies in scaling employee ownership using innovative investment structures and impact capital.
Languages: English / Español
How do we calculate patronage and profit sharing? How do internal capital accounts work? What should worker-owners know about PPP loan forgiveness? How does this affect worker-owners of LLC co-ops vs employee-owners of co-ops? How can we make sure our accounting and finance systems enable us to make good decisions as a group? Do you have cooperative bookkeeping and accounting questions? A Bookkeeping Cooperative, Wegner CPAs, and Open Bookkeeping will lead a session illustrating some basic financial concepts shaped by the specific challenges and curiosities you're facing in your cooperative. This will be an interactive session facilitating the sharing of the collective wisdom among participants. Bring your coop financial questions!
Sept 10, Day 1 Breakouts | 5:00pm ET / 4:00pm CT / 2:00pm PT | 60 min
Languages: English / Español
The year 2020 has been marked by a global pandemic, increased political repression and a failing economy. These crises have only exacerbated long standing issues such as a widening wealth gap, disproportionate access to resources, state sanctioned violence and a legacy of exploitation and extraction. In this session we will explore how the practice of cooperative economics has historically been and continues to be a tool for liberation. Worker Cooperatives in particular are sites where some of the most oppressed communities are building power and practicing community care and resiliency. Join us in this session as we respond to the questions "what are worker coops" "why coops?" and "why now?".
Languages: English / Closed Captioning
Nonprofit movement organizations often recreate the dynamics of domination and exclusion that we are working to transform. This session will explore practices and structures that nonprofit organizations can use to distribute leadership and create more equitable and liberatory working conditions. We will introduce ways to distribute power and labor more equitably, make good decisions together, engage with conflict generatively, and other tools for sharing power and leadership. We will spend a significant amount of time on one particular tool in our toolkit - breaking down static jobs into dynamic and evolving "circles" and roles. Participants will come away with specific tools and new ideas about how to embody the world we want to see in our organizations.
Languages: English / Español
Too often cooperatives and nonprofits fail to consider the intentions of their mission for internal HR practices, like hiring. Even in cooperative businesses, any unjust hiring practices exacerbate disparities in wealth and opportunities based on class, gender, disability, documentation & status, and are a powerful accelerant of structural racism. Democratic workplaces have the power to intervene with anti-racist hiring practices. A thoughtful hiring process can build alignment around equity in the workplace while strengthening your team by ceasing over scrutiny of Black and Brown applicants. This workshop will cover: organizing and outlining your hiring process; lawful and unlawful pre-employment questions and practices; building a criteria-based approach to help you understand your co-op needs, assess fairly, and prevent discrimination and bias in your hiring process; reading and assessing resumes, cover letters, and applications with an awareness of power and bias; and anti-racist practices in conducting interviews.
Languages: Español
Requirement to participate: A Gmail account, access to a computer, basic computer experience.
This workshop will cover the uses and benefits of virtual spreadsheets. Participants will learn how to create spreadsheets using Google Sheets, how to format, edit and organize business information so that it can be used later. You will learn
Examples and uses that can be applied immediately to improve the management of cooperative operations.
How to keep information about the business up to date to make important and informed decisions.
How to use spreadsheets to keep information organized and within reach about clients, workers, invoices, etc., rather than maintaining information manually, which can take a long time with more possibilities to make mistakes.
Thanks to the power of computers, calculations can be made automatically using spreadsheets, which saves time and helps to make fewer mistakes.
Sept 11, Day 2 Keynote - Maurice Mitchell | 1:00pm ET / 12:00pm CT / 10:00am PT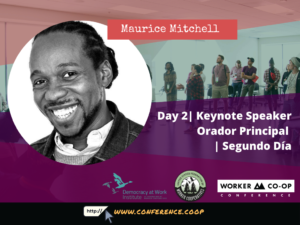 Existing inequalities are exacerbated during crises. This fact has been well-documented over the past few months as the pandemic has disproportionately affected Black and Brown communities. Relief efforts have been equally damaging, failing to help many business owners of color retain jobs and keep the doors open.
As protests continue across the country calling for the dismantling of anti-Black systems of oppression, the time for action in the name of justice is now. Growing worker ownership is part of the equation that delivers racial and economic justice to the communities we must rebuild together.
About Maurice Mitchell
Maurice Mitchell is a nationally-recognized social movement strategist, a visionary leader in the Movement for Black Lives, and a community organizer for racial, social, and economic justice. Born and raised in New York to Caribbean working-class parents, Maurice began organizing as a teenager—and never stopped.
Two tragedies changed the course of Maurice's life. In 2012, Hurricane Sandy destroyed Maurice's house in Long Beach, NY and left him living in hotels for months. Eighteen months later, after Mike Brown was killed by police in Missouri, Maurice relocated to Ferguson to support organizations on the ground.
In 2018, Maurice took the helm of the Working Families Party as National Director where he is applying his passion and experience to make WFP the political home for a multi-racial working-class movement.
Sept 11, Day 2 Breakouts | 3:00pm ET / 2:00pm CT / 12:00pm PT | 90 min
Languages: English
"The United States healthcare system is woefully inadequate at meeting our needs for equitable and accessible healthcare. Though our precarious economy and the rise of gig workers makes our current system more untenable by the day, US healthcare is locked in the staid expectation that healthcare should primarily be provided through traditional full-time employment.
How can worker coops navigate providing healthcare for their members when cost and regulations create barriers? How can we envision a healthcare landscape that doesn't tie access to care to employment? In this panel, we'll hear from worker coops that have created avenues for accessing healthcare, and from organizations that are carving out ways to access healthcare beyond the workplace. We will discuss the successes and challenges of attempting to circumvent the current healthcare landscape, and discuss pathways to a future where we all have access to the healthcare we need."
Panelists:
John Blaska // Everspring Health
Dr. John Blaska is a leading researcher in integrative healthcare with a vision for creating a modern economically viable, globally accessible primary care. As President and Founder of Everspring Health, he works with team members in the development and operation of a healthcare cooperative, recognized as an emerging leader in Minneapolis, MN. His clinical focus is ensuring healthy aging and longevity, while practicing a healthcare model that improves quality of life by reducing the impacts of chronic disease via lifestyle centric interventions.
Kevin Bayuk // LIFT Economy
Kevin Bayuk's roots are in entrepreneurship, having spent nearly a decade starting and growing technology companies, and activating projects and organizations that regenerate healthy ecosystems and socially just and joyful environments. After immersing himself in all aspects of starting and growing companies, Kevin focused his attention on learning about and teaching eco-systemic design. Now Kevin is merging his experience in business with his experience in permaculture to help businesses care for people while enhancing the earth.
Molly Hemstreet //Industrial Commons
Molly is the Executive Co-director for The Industrial Commons. She co-founded the organization in 2015 to support industrial workers across her region. She is a native of Morganton, NC where she continues to work and raise her family. After attending Duke University she returned home to teach in the public school system. She then worked for the Center for Participatory Change organizing economic development initiatives across rural Western NC in a response to the need for fair livelihoods.
Languages: English / Español
Direct care work has always been essential, but our economy does not meaningfully value the people who work in these industries though wages and work conditions. Homecare and childcare cooperatives are a powerful tool in ensuring safe, fairly compensated, and stable work environments - particularly for marginalized communities. Hear from worker owners who have spent decades in the homecare and childcare fields on how their co-ops have created better opportunities for frontline workers, and the importance of working with labor unions and workers rights organizations to take care of essential workers.
Panelists:
Adria Powell | Cooperative Home Care Associates
As Executive Vice President at Cooperative Home Care Associates, Adria seeks to maximize positive impacts for CHCA home care workers and the elders and individuals living with disabilities. Adria joined Cooperative Home Care Associates as a Coordinator in 1993 and has since fulfilled progressively higher levels of responsibility. During that time, she has helped CHCA to grow from a small cooperative to one that employs more than 2,110 staff.
Daniella Preisler | Colmenar Consulting
Daniella is a Chilean mother of an amazing 15-year- old teenager. For the last four years she has been a part of the eco-friendly housecleaning cooperative, Home Green Home in San Francisco. Most recently, she has completed her year-long Cooperative Developer Fellowship with Prospera, and also serves as a Board Director for the USFWC. She has also collaborated with SELC advocating to fix AB2883, with USFWC in the Immigrant Council, with DAWI in the Immigrant Coops Collaborative.

Susan Kavchock | Childspace Cooperative
Susan oversees the management of Childspace centers and is the company's main contact with agencies and grantmaking organizations. She has held many positions within Childspace since joining it as an assistant classroom teacher in 1988. These include Head Teacher, Staffing Coordinator, Financial and Operations Director. Susan is grateful to know the business from many different angles and, yes, still looks for opportunities to spend a few minutes in the classroom with the wonderful children who attend the centers. Like many Childspace staff, Susan is involved in advocating for quality care & quality jobs in the childcare field. She provides business technical assistance and peer mentoring to childcare programs looking to strengthen their business practices to financially support increased quality standards. Susan's Business Management degree has helped guide her in the development of the adapted statewide Cost of Care training curriculum, including conducting over 500 business trainings to childcare programs across the State of Pennsylvania and is a certified Affiliate PQAS instructor.
Languages: English / Closed Captioning
This session will explore the significance, legitimacy and precise nature of the demand for reparations and how we should respond to it within the cooperative movement. Ed Whitfield was Co-founder and Co-managing director of Fund for Democratic Communities (F4DC) and one of the founders of the Southern Reparations Loan Funds (SRLF), now a regional network within Seed Commons, which grew out of the Southern Grassroots Economies Project (SGEP). SGEP was focused on building a cooperative solidarity economic movement in the US South through training, advocacy and securing resources for Southern Cooperatives. Ed is also a member of NCOBRA (National Coalition of Blacks for Reparations in America) and has been a speaker at several of their conferences, elevating the importance of cooperative economic development. With the sunsetting of F4DC, Ed has moved to Clarksdale MS where he has helped to found the Delta Commons Group, doing Cooperative Community Economic development work in the Mississippi/Arkansas Delta and he is also doing consulting work assisting with the proposed community buy-out and development of the Crenshaw Mall in downtown Los Angeles. In our workshop Ed will talk about the reparations movement and how it affects existing and proposed projects to help marginalized communities meet their needs and elevate the quality of life.
Languages: English / Español
Stories of worker co-ops, featuring our international partners.
Panelists
Luis Alvez 2005- a la actualidad Coordinador del Museo y Parque Fernando García del departamento de Cultura de la ciudad de Montevideo. 2005-2010 Órgano coordinador de Directores de Museo. MEC. Trabajando en la creación de la Ley de Museos, tecnicatura de Museos y el sistema nacional de Museos. 2005_2009 Integró el equipo que creó el programa de descentralización cultural de la ciudad de Montevideo Esquinas de la Cultura como coordinador territorial. 2006_2008 Esquinas de la Cultura. Fue parte del equipo creador del proyecto SACUDE con los vecinos de Casavalle. 2012 a la actualidad Cooperativa Liceo Alternativo de la Costa de educación formal. 2017 a la actualidad integra la cooperativa como president 2015-2019 Presidente de la Federación de Cooperativas de Producción del Uruguay (FCPU). 2015-2020 Integra el Consejo de la Confederación Uruguaya de Entidades Cooperativas (CUDECOOP). 2018-2020 Integró el Comité Ejecutivo de la Confederación. 2018- a la actualidad Consejo de la Alianza Coperativa Internacional ACI 2015-2018 Presidente de CICOPA MERCOSUR. 2018 la actualidad Presidente de CICOPA Américas 2018 a la actualidad Vicepresidente de CICOPA Mundial.
Osamu Nakano is the Director of International Relations Department at Japan Workers' Co-operative Union (JWCU), a position he has held since July 2017. He concurrently serves as a board member of JWCU. Osamu holds a bachelor's degree in history and a master's degree in comparative literature. After conducting historical research at New York University, he joined JWCU in 2014. He also serves as an active staff of the Japan Co-operative Alliance (JCA), an apex organization of all cooperative sectors in Japan. He further serves as a visiting researcher at Tokyo University, and an advisor of the Institute for the Cooperative Digital Economy that was established in April 2019 at the New School University, New York.
Olga Oyier is the Kenya Country Team Lead and Policy & Legislative Affairs Specialist at Global Communities' USAID CLEAR Program. She has been working towards the creation of an enabling policy and legislative environment in the counties for cooperatives and supporting the growth of the housing and service/worker-owner cooperative businesses in Kenya. She has supported and overseen the creation of systems and networks to sustain business regulatory reform efforts post program completion leveraging the market system approach. These efforts have had a sizeable contribution to the improvement of the investment climate, and spurring private sector growth in Kenya, where the private sector has been earmarked in the national development blueprint as the engine of Kenya's economic growth. Berkin is a co-founder of Youth Deal Cooperative - Turkey's first youth-led research, development and training coop empowering underserved communities through cooperative entrepreneurship. He focuses on democratic workplaces and inclusive employment policies. Berkin has been extensively involved in projects organizing women and Syrian refugees under worker cooperatives.