Worker Co-op Week sessions were made to inspire with topics ranging from carrying on the legacy of Black cooperative visionaries and recruiting the next generation of the homecare cooperative workforce, to discovering financial tools for immigrant workers and securing health care for worker co-ops and more. These sessions were curated by and for worker-owners and cooperative movement builders to both meet our current needs on the road to a just pandemic recovery, and foster our communities' shared prosperity.
Day 1 of Worker Co-op Week will be closed by a Keynote Panel address featuring a conversation between special guests U.S. Representative Jamaal Bowman of New York's 16th Congressional District and sci fi writer & housing justice organizer, Rasheedah Phillips of Policy Link and the Black Quantum Futurism artist collective, moderated by AORTA worker-owner and USFWC Executive Director Esteban Kelly.  Aside from the engaging session and keynote content, the conference is a space for worker co-op movement builders to connect, discuss and engage with shared values through a virtual film screening and to celebrate one another's hard-fought achievements at the 2021 Worker Co-op Awards.
Session Block 1 丨12pm ET / 11am CT / 9am PT
Language: English
Artists and culture bearers are searching for viable alternatives to the traditional models of cultural production that keep resources and power out of the hands of the workers. This huge labor force is growing in its awareness of the new economy, and because of projects like Guilded, Art.coop, and Anticapitalism for Artists, there's a wave of interest in the worker co-op model. Yet because of the co-op field's focus on traditionally profitable businesses, we are underprepared to support and develop many of these new cooperative ventures. These new cooperators need support from people who speak "art" and "cooperative" to see that success is possible.In this session, participants will have a chance to hear about the successes, challenges, and different business models of four arts and culture worker cooperatives working in four different fields. Each co-op will share a tool or resource that helped them get to where they are today, and there will be an opportunity for Q&A with each co-op.
Presenters:
Joanna White-Oldham, emerging Director
Bryan Chang, Meerkat Media
Brian Van Slyke, TESA Collective
Daniel Park, Obvious Agency & USFWC Project Coordinator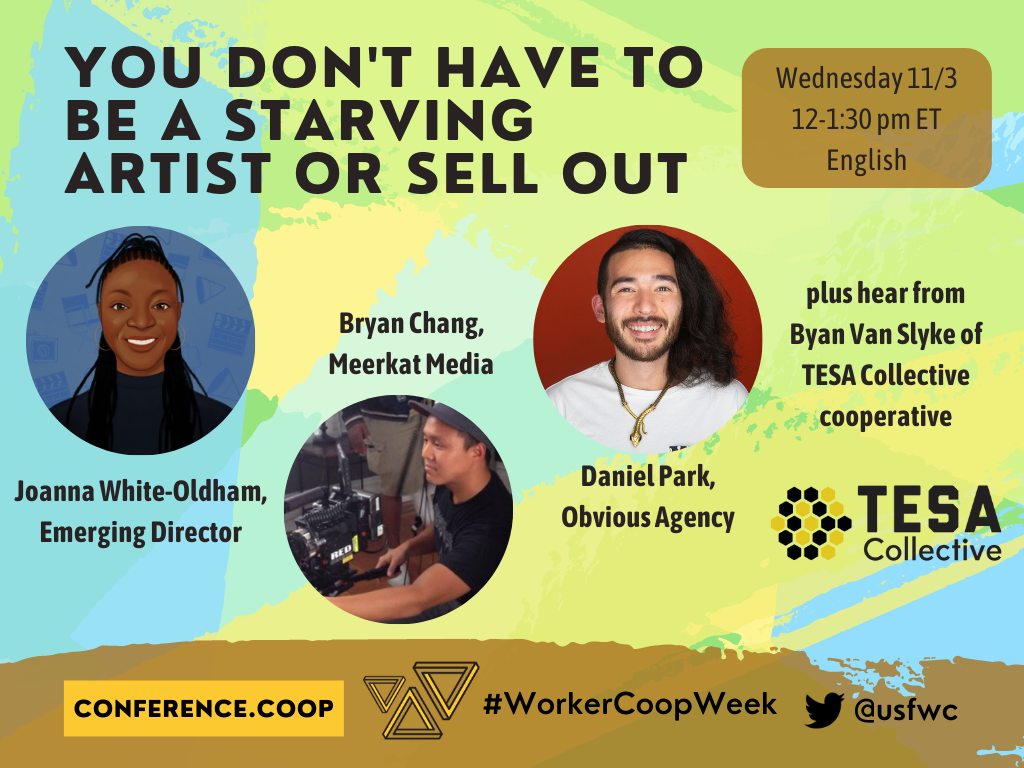 Language: English
Open-book management will take different forms in each organization but serves the common goal of teaching members to act like owners.
This session will cover the basics of what is in a Profit & Loss statement, as well as how members can find themselves in their co-op's financial statements, and how that knowledge will help them personally build a stronger, more sustainable cooperative. We will practice co-creating budgets and sharing other financial information using QuickBooks. Participants will leave this workshop with a clear understanding of the principles used in the process of OBM, and tools for implementation.
Presenters: 
Mavery L. Davis, CPA
Tamah Yisrael, Cooperation New Orleans
Aaron Dawson, The Industrial Commons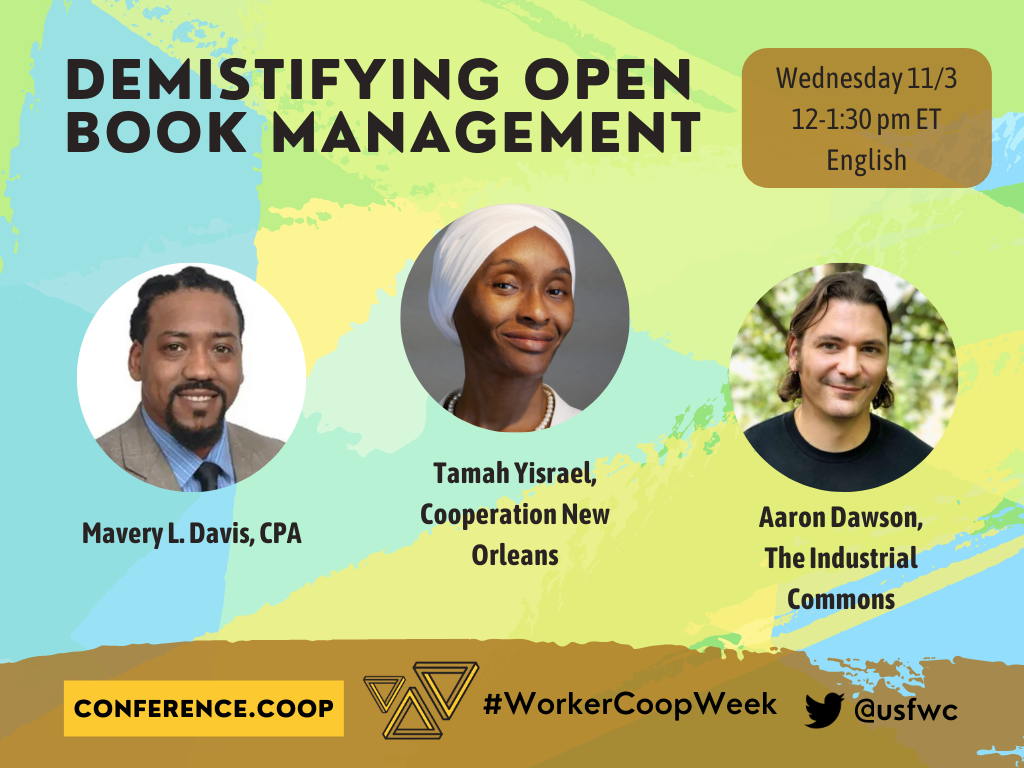 Language: English & Spanish
A panel of attorneys and accountants will present the basics of cooperative law and finances. Topics will include business entity options, bylaws, multi-stakeholder categories, income tax and related issues. The panel will respond to questions from attendees.
Session Block 2 丨2pm ET / 1pm CT / 11am PT
Language: English & Spanish
Have questions about your taxes? This year it's more important than ever to clear your doubts. Lawyers of Greater Boston Legal Services will explain how and why you should prepare and file your tax statements (and where to do it for free!), how to access a tax-payer identification number ITIN for those without social security numbers, how to claim family tax credits, what to do if you are missing a stimulus payment, who can be included as dependents, what id the difference between employees and freelance workers, how to file your taxes if you are paid in cash, how to read your pay stub, the meanings of various IRS forms and what to do if you run into tax-related problems.
Presenters: 
Luz Arevalo and Angela Divaris, Greater Boston Legal Services
Erika V Perez Esteban
Emma Yorra & Iliana Reinhart, Wholehearted Bookkeeping
Language: English & Spanish
We choose cooperative practices as a response and alternative to harmful power dynamics based on white supremacist organizational cultures. However, this takes unlearning old ways and using new tools created for sharing power. Join members of Philadelphia Area Cooperative Alliance, Cooperation New Orleans, Round Sky Solutions, Green Worker Cooperatives, and Seed Commons peers to dive into the ways that implicit and explicit power dynamics show up in cooperative work from the perspective of both worker owners and cooperative developers.
In this session, you'll hear from experienced cooperators about how they understand, analyze, and shift power dynamics that show up in cooperatives using Round Sky's tool, the Power Matrix, and other power analysis tools. You'll also have a chance to reflect and share your own experiences with power and explore how to shift unhealthy dynamics to better actualize cooperative principles. You can expect to hear lessons learned and experiences confronting and shaping power.
Presenters:
Jeanette Cuevas & Annette Griffin, Philadelphia Area Cooperative Alliance (PACA)
Tamah Yisrael, Cooperation New Orleans
Lila Arnaud, worker-owner of BanchaLenguas Cooperative
Rebecca Fisher-McGinty, worker-owner at Round Sky Solutions Cooperative
Danielle LeBlanc, Greenworker Cooperatives
Language: English
The Offers & Needs Market is a rapid 90 minute skill and need matching workshop designed to quickly move people through a round of expressing what they have and are willing to offer up to others within the room along with what value they anticipate receiving. This is followed by a successive round during which participants are encouraged to reflect upon and express the things they need which may not have been addressed by the initial round of offers.
Presenter:
Mike Strode, Kola Nut Collaborative
Social Hour丨 4pm ET / 3pm CT / 1pm PT
During this time, Worker Co-op Week participants are invited to connect with colleagues, meet new cooperators and expand their network of mutual support.  There will be open virtual spaces to connect with others that align with shared affinities, projects or industries.  Stay tuned for more information about the structures social spaces we'll be hosting!
Keynote Panel: Beyond Wakanda– Can Hubs of Workplace Democracy Catalyze Communal Futures?丨5pm ET / 4pm CT / 2pm PT
Our keynote presentation premiers a conversation between U.S. Representative Jamaal Bowman of New York's 16th Congressional District, AORTA worker-owner and USFWC Executive Director Esteban Kelly, and sci fi writer & housing justice organizer, Rasheedah Phillips of Policy Link and the Black Quantum Futurism artist collective. Together they'll explore how compelling visions of a liberated future can inspire today's actions for building community wealth through cooperative ownership and governance. Congressman Bowman is the lead sponsor of the Green New Deal for Public Schools, and a supporter of bills that link innovation with cooperative development. The conversation will also feature activist co-op members in dialogue about local organizing and multi-racial strategies for meaningful change toward a post-capitalist future.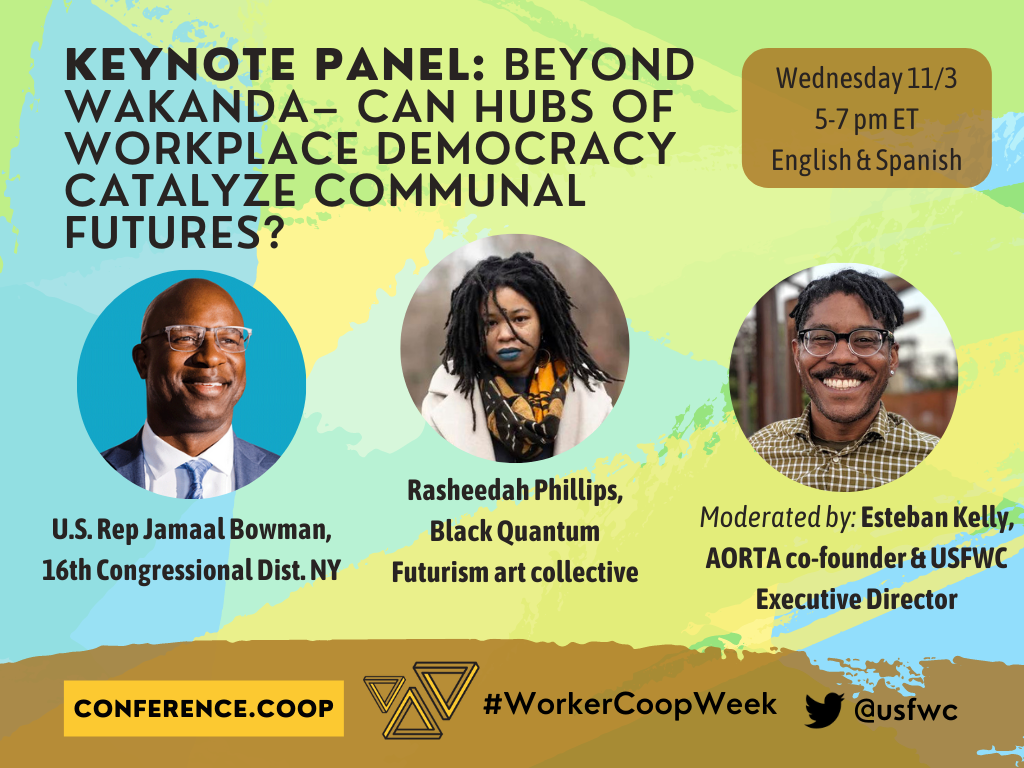 Screening of The Big Scary "S" Word 丨 7:30pm ET / 6:30pm CT / 4:30pm PT
We are honored to be able to offer a virtual screening of Yael Bridge's The Big Scary "S" Word, which "delves into the rich history of the American socialist movement and journeys with the people striving to build a socialist future today."
After the screening, we will be joined in conversation by featured cast and advocates for worker ownership to answer questions and engage with the themes of the film.

Session Block 3 丨12pm ET / 11am CT / 9am PT
Language: English
Today's Black co-op developers are part of a long Black radical tradition throughout the African diaspora. Hear some of their stories as community organizers who turned to cooperatives as tools for Black self determination in the face of systemic racism, racialized capitalism and gender discrimination. Witness an intimate conversation between noted Black co-op developers from New York City, Jackson, and Minneapolis as they reflect on their years organizing Black-led worker cooperatives. Hear their challenges, joys, and lessons learned as they share their stories.
This session is named in honor of Ella Baker, the renowned organizer and backbone of many of the leading organizations of the Civil Rights movement. Her focus on group centered leadership, participatory democracy, and leadership development were grounded in her early history organizing Black cooperatives throughout the US. We are sitting at her table.
Presenters: 
Omar Freilla, Collective Diaspora
Sacajawea Hall, Cooperation Jackson Co-founder
Kali Akuno, Cooperation Jackson Co-founder & Co-director
Danielle Mkali, Nexus Community Partners
Language: English
With an aging workforce entering retirement at record rates, cooperative businesses need to plan more intentionally for recruitment, onboarding, and retention of millennial and gen z workers. What are some strategies to attract young workers and to incentivize them to stay on as cooperators? Specifically, what can we learn from an industry with an exponentially growing worker shortage with many workers over the age of 50? We'll explore these questions in a case study of a home healthcare co-op where many agencies are working on attracting and keeping younger caregivers. Nora Edge, General Manager of Capital Homecare Cooperative will speak to her experience as a millennial caregiver, and her success with attracting and retaining this new generation of caregivers.
Language: English & Spanish
Join Membership Director of the USFWC Ana Martina and Metric & Impact Analyst of the Democracy At Work Institute (DAWI) Olga Prushinskaya for a presentation of results from the last Worker Co-op Enterprise Census.  They will share current statistics and trends they identified from data on over 100 cooperative businesses in the U.S. and Puerto Rico during the pandemic as well as answer questions and solicit feedback on the data collection and surveying process.
Presenters:
Ana Martina Rivas, Colmenar Consulting Co-founder & USFWC Technical Assistance Manager
Olga Prushinskaya, Democracy at Work (DAWI) Metric & Impact Analyst
Session Block 4 丨2pm ET / 1pm CT / 11am PT
Language: English & Spanish
How can we make sure our accounting and finance systems enable us to make good decisions as a group? How do we calculate patronage and profit sharing? How do internal capital accounts work? What should worker-owners know about PPP loan forgiveness? How does this affect worker-owners of LLC co-ops vs employee-owners of co-ops?
Do you have cooperative bookkeeping and accounting questions?
A Bookkeeping Cooperative and Wegner CPAs will lead a session illustrating some basic financial concepts shaped by the specific challenges and curiosities you're facing in your cooperative. This will be an interactive session facilitating the sharing of the collective wisdom among participants. Bring your coop financial questions!
Presenters: 
Alex Fischer, Lauryl Berger-Chun and Veronica Dougherty, A Bookkeeping Cooperative
Bruce Mayer, Wegner CPAs
Language: English & Spanish
Our lives have been profoundly impacted by the covid-19 crisis (alongside many other concurrent crises, especially climate catastrophe). Worker co-ops tend to fare better in hard times compared to traditional businesses, but how do we make sure we are caring for ourselves and our co-workers as difficult conditions intensify? In this session, we will share some of the policies and adaptations AORTA has adopted over the past year in order to support worker well-being in these pandemic times.
Presenters:
Kate Eubank, Dana Pederson & Sunny Dakota Spencer, AORTA
Language: English
How can you self-organize to get things done, and avoid the traps of power-over that permeate so many organizations? How can you make decisions using power-with, and where everyone's voice counts? How can you include the heart in decision-making? Worker-owners in a co-op expect to have a voice in company decisions. But without a transparent structure for doing so, disappointments, frustration, resentment, or just plain resignation can set in. People can lose heart!
Join this experiential workshop on the basics of the Sociocratic Circle-organization Method (SCM). The SCM is a whole-systems approach to collaborative decision-making, project management, and organizational governance. The approach creates a more inclusive, effective, self-managing culture, where good ideas can come from any part of the organization. Cooperatives and a variety of other organizations of all sizes worldwide use the method. The basic principles of sociocracy map well to the Rochdale Cooperative Principles.
In this workshop, we'll engage in small-group exercises and a demonstration so everyone can experience a few meeting processes of the SCM. You will learn about how to (a) clarify who decides what, (b) make collaborative decisions with everyone's input – and without taking all day and all night – and (c) create productive and (usually) enjoyable meetings that can hold heartful discussions. At the end of the workshop you will know whether sociocracy is right for you, and will have a few new tools you can use immediately.
Presenter: 
Sheella Mierson, Sociocracy Consulting Group
Session Block 5 丨4pm ET / 3pm CT / 1pm PT
Language: English
Conflict among worker cooperatives is inevitable, but people do not have to be harmed in the process. Unfortunately, there is often a contradiction between cooperative structure and cooperative approaches to conflict, which sometimes replicate toxic responses often exhibited in traditional companies. This session invites a discussion on some the practical ways that lawyers and developers are supporting worker cooperatives in their responses to conflict. It will begin by framing the conversation around healing justice and restorative justice frameworks, before collaboratively discussing best practices as seen among moderator and participants.
Language: English
Presenters will discuss the meaning of ethical technology and webhosting that is free and open source, developed with user feedback and free of police or other surveillance. Participants will be invited to share tools and discuss challenges and opportunities for developing ethical cooperative webhosting and software that is owned by the creators and users. Join the discussion to envision what a harmonious and cooperative technological future can look like!
Presenter: 
Micky Metts, MayFirst Movement Technology, Platform Cooperativism and The Center for Global Justice and Greater Boston Chamber of Cooperatives member
Worker Co-op Awards Ceremony 丨7pm ET / 6pm CT / 4pm PT
Join us as we recognize outstanding worker co-op businesses and individuals in the movement who are making strong local impacts to bridge equity gaps through worker ownership and advance the movement for a worker-owned economy at the national level.  Hear speeches from fellow movement builders, give props to your colleagues for their achievements and celebrate our shared prosperity as cooperators at the Worker Co-op Awards ceremony.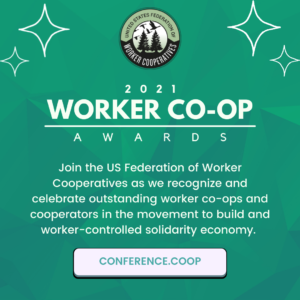 Session Block 6 丨12pm ET / 11am CT / 9am PT
Language: English & Spanish
Hear from the members of the USFWC Union Co-ops Council, as they share their successes, challenges, learnings, practical hands-on tools and resources for building thriving union worker cooperatives. The panelists will cover:
how to work with unions as partners from day one as you convert unionized businesses to worker owned cooperatives
how our labor partners can serve as a frontline early warning network for companies at risk of a succession crisis a.k.a good potential targets for conversions
how to start new union worker cooperatives from scratch with labor partners
tested tools for union co-op work, including union co-op development and culture curriculums
Presenters: 
John McNamara, Northwest Cooperative Development Center, CooperationWorks! & Chair of the USFWC Union Co-ops Council
Rebecca Lurie, City University of NY School for Labor and Urban Studies, USFWC Union Co-ops Council Executive Committee member, DAWI Board of Directors
Ellen Vera, Co-op Cincy
Lis Ryder, SEIU & AFSCME labor organizer, Co-founder of the USFWC Union Co-ops Council
Flequer Vera, Sustainergy Cooperative
Paloma Correra
This session is for anyone who may need to borrow money and raise capital for their business. Participants will learn

1) what kind of money they might need for their business

2) how lenders and investors evaluate a loan request

3) how to be sure that the worker-owners maintain control of their capital

4) how the cooperative can best prepare for and represent themselves through the borrowing process.

We will explore healthy lending practices and how debt has been used historically to extract wealth from communities. Lending and investing often involves exploitation and theft. We will attempt to unpack some of these dynamics and identify ways in which the cooperative members can take control of their financing needs. This session will involve presentation and facilitated discussion.
Session Block 7 丨2pm ET / 1pm CT / 11am PT
Language: English & Spanish
This session will dig into the details regarding how employee-owned businesses can assess the quality of the jobs that they offer, and provide a framework for employee owners to evaluate goals and next steps toward improving job quality.
Consultants from Project Equity will give a short presentation that provides an overview of the session framework and the components of quality jobs. Then, participants will be divided into Zoom breakout rooms in which they will work together to define a "quality job" from their perspective, assess their business' current state of job quality, and create a vision and strategy for the future. This interactive session will leave participants more equipped and empowered to improve the workplaces in which they are employee-owners.
Presenters: 
Eric Medrano & Patty Viafara, Project Equity
Session Block 8 丨 4pm ET / 3pm CT / 1pm PT
Language: English
Wondering where to start with health insurance for workers? Should you look into a group plan? What about individual health insurance subsidies? What about the small employer health insurance tax credit? What's the SHOP requirement? What's the meaning of QSEHRA & ICHRA? Can it be used with individual insurance subsidies?
We'll answer these questions and more, and try to arrange an "order of operations" to these thoughts to give the process some form of how to approach the idea of providing health insurance through the business.
Presenters: 
Maddie Taterka, USFWC Worker Benefits Program Manager
Matthew Tae, Health Insurance Broker / Consultant