Conference Logistics
Locations
There are two different locations for the different days of the conference.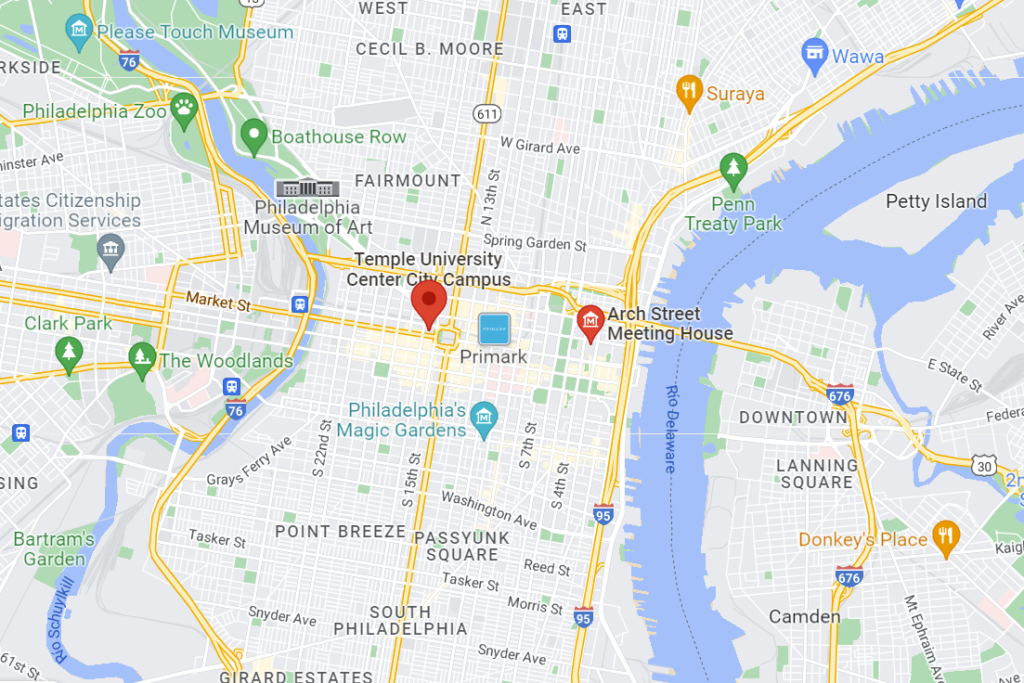 Click here to view the locations on Google Maps
On September 9th, all activities will take place at Arch Street Meeting House in Old City. 
Arch Street Meeting House
320 Arch Street
Philadelphia, PA 19106
On September 10th, our workshops will be indoors with roughly 45 people maximum in each room. They will take place at Temple University's Center City classrooms, right across from Philadelphia City Hall.
Temple University Center City (TUCC)
1515 Market Street, Suite 215
Philadelphia, PA 19102
An important note about the Temple Center City location: 
Children under 18 will not be permitted to enter the building. For anyone who needs to bring children to the conference, there will be childcare available at another location. For more information about this please see the childcare section. 
Both venues are located in the midst of dense business and tourist districts with a huge number of restaurants, cafes, bars, and other accommodations.
Local Transit 
The venues are both located within a short walk from SEPTA train stations for the Market-Frankford line (MFL). Trains run about every 10 minutes and buses along Market Street are very frequent as well. Individual trips cost $2.50 and 3-day passes are $18.00. For more information about trains and buses visit the SEPTA website.
Food 
Lunch will be provided on Saturday, and coffee and snacks will be available throughout both days. Dinners will not be provided on either day.
Childcare
For Covid-19 safety, we are not offering childcare as widely as we have at previous conferences. If possible, we are asking attendees to leave children at home. We will partner with a local childcare provider to offer a free option for those who can't arrange childcare outside of the conference. Please email conference@usworker.coop if you plan on bringing a child.
Official Conference Lodging
We have reserved a block of rooms at the Holiday Inn Express Penn's Landing, which is a few blocks from the Day 1 conference location and the conference childcare location (Arch Street Meeting House) and a short train or bus ride from the Day 2 conference location (Temple University Center City).
The deadline to take advantage of our highly discounted block rate ($149/night) is August 26. However space is limited, so we recommend booking as soon as possible to guarantee a room at the discounted rate.
Holiday Inn Express Penns Landing (official conference lodging)
100 N Christopher Columbus Blvd
Philadelphia, PA 19106
(215) 627-7900
Book rooms online: this link gives you our group discount automatically
Call to book: ask for the U.S. Federation of Worker Cooperatives rate
Deadline to book at block rate: Aug 26 (please note that spaces are limited and may fill before this date)
Alternative Conference Lodging
If the Holiday Inn Express doesn't work for you, here are two nearby options. We do not have rooms held at these hotels, and their prices will likely be higher.
Wyndham Philadelphia Historic District
400 Arch St
Philadelphia, PA 19106
(215) 923-8660
Located RIGHT next to the Day 1 conference location and childcare location. Easy access to transit to the Day 2 location.
This may be a preferable option for people with limited mobility and those bringing small children.
Hilton Philadelphia at Penns Landing
201 S Christopher Columbus Blvd
Philadelphia, PA 19106
(215) 521-6500
About a 15 minute walk from the Day 1 conference location and childcare. Easy access to transit to the Day 2 location.
COVID-19 Information
The 2022 Worker Cooperative Conference has been designed to mitigate the risk of Covid-19 exposure for all attendees. The only indoor event with more than 50 people in one room will be the USFWC Member Meeting, and it will also be accessible virtually. Otherwise, all events will take place outdoors or in small groups. 
Proof of vaccination is required to complete registration. Masks will be required indoors at all times. All meals will be eaten outdoors. We will ask all attendees to test themselves for Covid-19 within 24 hours prior to checking in at registration using a rapid or PCR test.